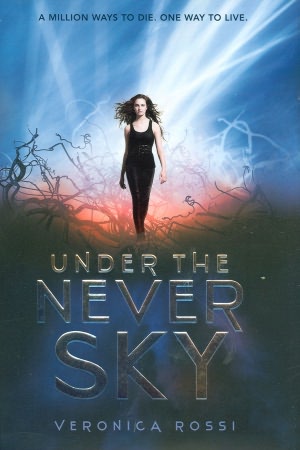 Under the Never Sky
(Under the Never Sky #1)
by Veronica Rossi
Hardcover: 384 pages
Publisher: HarperCollins; First Edition edition (January 3, 2012)
Goodreads Summary:
WORLDS KEPT THEM APART.

DESTINY BROUGHT THEM TOGETHER.

Aria has lived her whole life in the protected dome of Reverie. Her entire world confined to its spaces, she's never thought to dream of what lies beyond its doors. So when her mother goes missing, Aria knows her chances of surviving in the outer wasteland long enough to find her are slim.

Then Aria meets an outsider named Perry. He's searching for someone too. He's also wild - a savage - but might be her best hope at staying alive.

If they can survive, they are each other's best hope for finding answers.
***************************************************
My Opinion:
This story is told in third person with each chapter alternating between Aria and Perry . The reason I like chapters set up this way is because it helps me to get to know each of them better without lingering in one place long enough for me to forget the feel of the other character.That allows the story to flow more smoothly for me.
I liked both of the main characters straight away. Aria is smart, talented, and very determined to find her mother. She becomes a strong survivor after being dumped in a place with extreme adverse conditions compared to life inside the pod. Perry has not had the pampered and carefree life that those who live behind the domes have. He has to fight for everything he needs and is a real alpha male who comes to Aria's rescue.
These two suddenly find themselves on a journey together, each searching for a missing loved one. Along the way they have to face deadly weather, cannibals, wolves and the people that threw Aria "Outside". I'm sure you have guessed by now that during their travels Aria and Perry start developing some sort of feeling for one another (after a very rocky start) but the pacing was just right I think.
The one criticism I have would be that in the beginning of the book I wish more was written about Aria's life in the pod to give me that day to day feel for it.
Overall I enjoyed this well-written, original dystopian. I'm looking forward to reading the sequel,Through the Ever Night.

4.75/5